Malaysian Open will be held at
KLGCC
this year from 13th Feb until 19th February. The sponsor will organise a trial on the 26th January for those amateurs with handicapp 0 to 2. If only I am in KL , I would then register and try my luck.
But then again , it would take a miracle for me to qualify anyway. But I am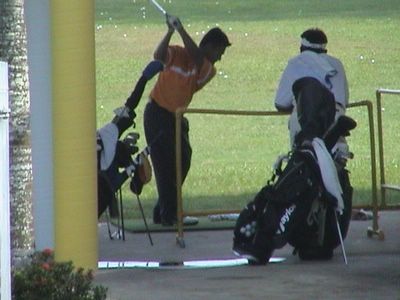 going to watch that one. A new venue and most likely going to be an interesting one. It will be quite interesting how they will have to manage the crowd. Parking areas will be quite tight , unless they are willing to use the playing field before the club as alternative. With new sponsors , they still need volunteers ? So if any of who lives in Klang Valley , click
HERE
for details.
I am hoping to see malaysia very own golfers to perform well this year. Steel and Chia would be our main bets. MGA strong amateurs like Sukree and Siva ( pictured with fellow golfer after practise round , Miri Masters 2005) can use this to prove their worth. And there are quite a few more , like Saiful , Rashid , Steven and probably some from the junior ranks. Dont forget MPGA top earner in 2005 Airil . ( above pic in orange with Kalana at Miri Golf Club Practise range , April 2005 ).
Shown also google satelitte view of
KLGCC.
Having played there
both
east
and
west course
, I do think lower score should be posted this year. Unless they are thinking of hitting it long to the green from the tee box. It should be an interesting course to play. Undulating fairways and tricky hazards can be a bit tricky for those who have not played there before.
Thongchai won it twice in 2005 and 2004. Both at Saujana. This year will be a total ball game. The green wont be that fast compared to Saujana. But it will be on a different slope speed. It will interesting to see the pro hitting the ball from the tee at hole 16th and 17th. The 16th , from higher tee box , they would be tempted to hit the green from the tee, unless the organisers pull the tee box far back. I would definitely wanted to see how they tee off from the tee at 17th. Either they hit it to carry the small ravine in between two fairways or even hitting it straight to the pin. The slope rating will be 133 compared to
Palm Saujana
at 142.
Zed and Zuhri , please book tickets early and book your annual leaves now!!!