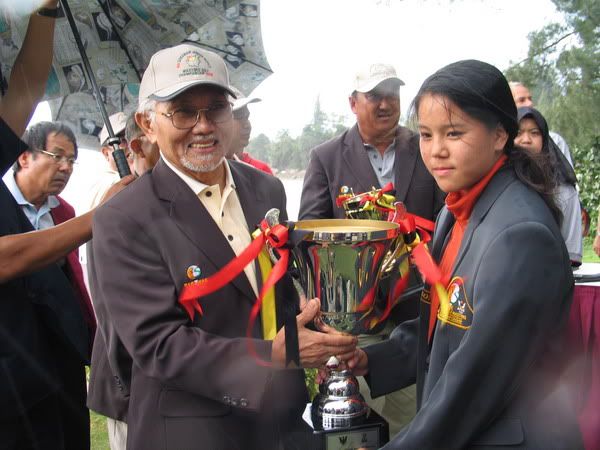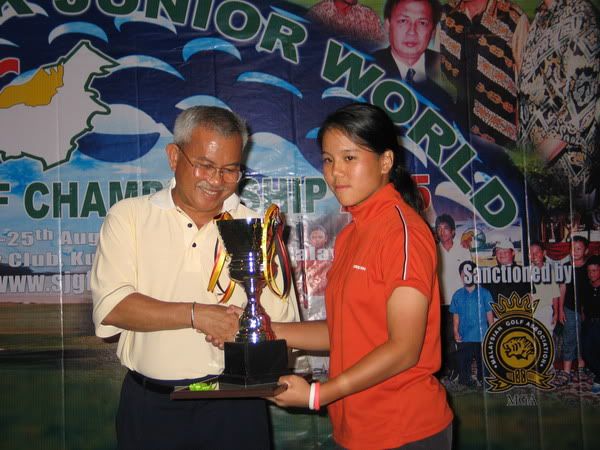 Dianne recently won the Asia Pacific Junior title at Kuching. She is only 14 , with handicapp 5. Recently GA manage to talk to her dad (Joseph Luke , who works at Sarawak Shell in MIri ) who was posing a big smile when GA congratulate him on her recent success. Only now ,some golf governing body has ecame forward to sponsor her travelling and competition expenses.
Dianne is a success story of
Kelab GOlf Miri
Junior programme. And she is not the only one. Other rising stars like Alvin , Calvin , Abg Izzul or even Dianne little brother are also starts to shine.
GA is a bit concern on the Govt role in developing young talents in golf. More have been said and done. If only talents like Dianne are being notice in the USA , GA is pretty sure she will be enrolled into a sports college. But not many malaysian parents can afford to that. Some even stop school to concentrate on golf.
Is there ayone out there willing to put your money on Dianne ? I would. In time , she will be the household name in Asia. My prediction is when she reaches 18 , she will be in the LPGA circuit. Now some might call me a dreamer . Hey ! why not...
Come on Malaysians , dont just sit there and say Malaysia Boleh !
Personal particulars
Name : Dianne Luke Jia Zhen
Sex : Female
Date of Birth : 14th December 1990
Place of Birth : Miri, Sarawak
I.C. NO. : 901214-13-6324
Race : Chinese
Telephone : 085-652198 (Home)
Weight : 54 kg
Height : 155 cm
Home Address : Lot 755, Jalan Terung, Pujut 2A, 98000 Miri, Sarawak
School : SMK St.Columba School, Miri, Sarawak
School Address : Jalan Dato Abang Indeh, 98000 Miri, Sarawak
Class : Form 2
Telephone : 085-437532
Fax : 085-420519
Club Handicap : 5 (with effect from 21/08/2005)
USGA Handicap Index : 4.7 (with effect from 21/08/2005)
Achievements From 2003-2004 :
Year State/Country Event Placing
Dec 2003 Miri, Sarawak, Malaysia 5th Sarawak Junior Chief Minister's Cup (76,82,78) 2nd , Miri, Sarawak, Malaysia Winner of various monthly meda1
2004 Miri, Sarawak, Malaysia Datuk & Datin Jimmy Lau Challenge Trophy (89) 2nd
May2004 Miri, Sarawak, Malaysia May Monthly Medal (88) 1st
May2004 Miri, Sarawak, Malaysia Club Championship Stroke Play (83,86,83) 2nd
2004 Miri, Sarawak, Malaysia Winner of various monthly meda1
June2004 Sibu, Sarawak, Malaysia Sibu Amateur Open (92,81,86) 3rd
July 2004 Selangor Darul Ehsan, Malaysia Pharmaton - Malaysian Ladies Amateur Open Championship 2004 (85,87,98) 7th
Sep 2004 Miri, Sarawak, Malaysia Datuk Peter Chin & Datin Ruby Chin Challenge Trophy (86) (Best Gross) 1st
Sep 2004 Miri, Sarawak, Malaysia Shell world Wide Trophy (82) (36 Stableford points) 1st
Oct 2004 Miri, Sarawak, Malaysia Kelab Golf Miri Amateur Open (Tan Sri Datuk Tan Sri Datuk Amar George Chan Challenge Trophy) (95, 78, 87) - Qualifier (2nd day Best Gross and best net – 1st) 7th
Nov 2004 Miri, Sarawak, Malaysia Ta Ann Classic (89, 97, 95) - Qualifier 7th
Dec 2004 Kuching, Sarawak, Malaysia 6th Sarawak Junior Chief Minister's Cup (91,82,82) (lost to 2 National Players) 3rd
Dec 2004 Brunei Pantai Mentiri Golf Club Junior (B Division) Championship 2004 (89 Gross) 1st
May 2005 Miri, Sarawak, Malaysia May Monthly Medal (Gross 77) (Net 68) 1st
May2005 Miri, Sarawak, Malaysia Club Championship Stroke Play (85,81,85) 2nd
June2005 Panaga, Seria, Brunei Panaga Amateur Open (85,88,84) 2nd
June2005 Miri, Sarawak, Malaysia Inter-Club Championship, Miri Golf Club Vs Panaga Golf Club (75 Gross) (Net 68) 1st
June2005 Sibu, Sarawak, Malaysia Sibu Amateur Open (81,89,85) 2nd
July 2005 Sutera Harbour Sabah, Malaysia Pharmaton - Malaysian Ladies Amateur Open Championship 2005 (86,85,83) 29th
July 2005 Miri, Sarawak, Malaysia Club Championship Match Play 1st
July 2005 Kuching, Sarawak, Malaysia Sarawak Golf Club Sarawak Classic (77, 86 Gross) 1st
Aug 2005 Miri, Sarawak, Malaysia Shell World Wide Trophy (78 gross) (36 Stableford points) 1st
Aug 2005 Miri, Sarawak, Malaysia Datuk Peter Chin & Datin Ruby Chin Challenge Trophy (73 Gross) (Net 67) Net and Gross Champion) 1st
Aug 2005 Kuching, Malaysia DAMAI GOLF AND COUNTRY CLUB Sarawak Junior World Masters Golf Championship 2005 (Gross 79, 77, 83) 1st
Aug 2005 Kuching, Malaysia Sarawak Golf Club CMS – Sarawak Golf Club Amateur Open (Gross 87,83,83) 1st
Sep 2005 Sibu, Sarawak, Malaysia Ta Ann Classic To be played